The word Rudraksha, more popular as a traditional bead which literally means the Eye of Lord Siva (Rudra=Siva and Aksh=Eye) is believed to be the direct link that connects earth and heaven as it is the strongest manifestation of Cosmic force. This is often used as a bead for chanting mantras, seen with most Yogis and Monks.
Apart from its religious importance, rudraksha is obtained from the plant Rudraksha, called Utrasum bead tree (in English) having a botanical name Elaeocarpus ganitrus.
Keeping aside its traditional and ethical values, Rudraksha emits a ray of cure in the field of Ayurvedic treatment. It has both preventive and curative properties. It can be worn on your wrist, arm or other parts of your body as an aid to control your internal energies. You may find surprising therapeutic effects in this magical bead.
Rudraksha as blood purifier
Warm decoction of Rudraksha powdered and boiled in 6 times water taken along with honey purifies your blood and works as a general tonic for your body.
Cardio-Respiratory Effects of Rudraksha
Decoctions of few drugs with Rudraksha as its main ingredient, gives you a better breathing and cures cough and cold.
Rudraksha help you to get a Peaceful Sleep
A paste prepared with milk and this bead applied in your eyelids can give you a sound sleep, promising a better day next morning.
Rudraksha can cure Pox and Burn Marks
Are those itchy marks disturbing you? Jaggery, milk and the bead made into a paste and applied in the morning will help you get rid of them.
Rudraksha to treat for Piles
Local application of paste of Rudraksha and Triphala powder (an Ayurvedic medicine comprising of three fruits) mixed with honey gives you relief from piles.
Rudraksha to Enhance Memory Power & treat Epilepsy
The pulp of Rudraksha fruit or bark of tree or the bead itself and made into powder is an excellent brain tonic that helps you to sharpen your memory and keeps away unhealthy activities of the brain such as seizures and other uncontrolled movements.
Jaundice, stomach ache, liver ailments:
Rudraksha containing formulations have the property of regenerating cells that are dying gradually, as a result of conditions like fatty liver, jaundice, and cirrhosis and have also been found to pacify stomach aches.
Rudraksha can Detoxify Poisonous Insect Bites:
Rudraksha paste applied with lemon juice detoxifies your body from harmful effects of insect poison.
Improving sexual capacity and as pre-conceptional care:
Applying Rudraksha paste on forehead improves your sexual power, whereas one piece of Rudraksha with 10g of Sarpakshi (Ophiorrhiza mungos) punded with cow's milk taken during menstrual period can make you pregnant even if you are sterile!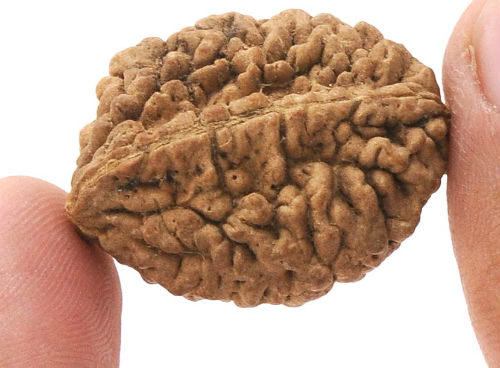 Tastelessness or cracked tongue and lips:
Gargling with a decoction prepared out f Rudraksha can cure all the problems stated above.
Brain fever and as a brain tonic:
Rudraksha boiled repeatedly in milk if taken in empty stomach for 21 days has promising effects in almost all nervous disorders. In case of brain fever, 4-5 beads kept in an earthen pot containing water overnight and consume this water early morning on an empty stomach for 40 days.
Rudraksha is a tree distributed in India, Nepal, Sumatra, Indonesia and other South East Asian countries. It is most known for its ability to keep blood pressure under control. No matter what, high or low blood pressure, this magical bead has a solution for you!